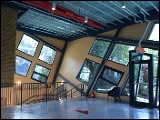 Ancillae Assumpta Academy; Stepping Stones (Pre-School) Addition and Alterations


Program Statement:
Ancillae Assumpta Academy is a U.S. Department of Education Blue Ribbon award recipient Catholic elementary school, pre-k to 8. The Pre-school program, known as "Stepping Stones" is the first experience of the school for prospective parents & families; it is a very important component of the school's image. Yet, this program operates in the basement of the sisters' convent and has little presence.


It has no formal entrance or identity (see slide 2). The remainder of the school's 10 acre campus has experienced renovations and expansion of which prospective parents are aware. The condition of the pre-school program is a negative marketing issue for the school.


Special Considerations:
Evaluate the entrance and car delivery patterns for an improved and more fluid approach system.
Create a distinct image for the pre-school program that will set it apart from the main school's traditional architecture. Improve the environment of the classrooms to be more attractive to the students.


Solution:
Create an image for the program to attract new parents and students alike with a design that is unique and Dr. Seuss-ish to relate to the pre-schoolers. The sloped walls (see slides 3, 4, 5 & 6) & windows (see slides 7 & 8) emote a playhouse like environment to which the pre-schoolers are attracted. The Architect designed a wall mural (see slide 10) that illustrates the life cycle of a butterfly as well as the growth of a student, and butterfly & geometric floor using seamless epoxy flooring.

Exposed structural & mechanical systems serve as a teaching tool to illustrate the way the building works. The steel tube structure, base plates & anchor bolts are exposed. The anchor bolts are covered with colored rubber balls. The roof deck, joists & drains are exposed and color coated.

The existing classrooms have higher ceilings, new lighting, seamless epoxy floor finishes, and brightly colored walls.


Material & System selection:
Tube steel structure;
Diamond shaped roof shingles as the exterior wall finish in two colors. The beige tiles relate to the existing brick structure and the blues tiles reflect the School's colors.

Seamless epoxy flooring with geometric floor graphics is used for its design flexibility, durability and maintenance free qualities.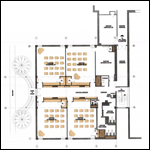 Ancillae Assumpta Academy Library Renovations


Ancillae Assumpta Academy is a private Catholic elementary school serving grades pre-K to 8 with a total student population of 600. The existing Library was housed in an older area of the Academic building at the east end of the structure situated among the 7th & 8th grade classrooms and consisted of approximately 3,000 SF.

The Library did not have adequate space to store or display it's 13,000-book collection, a portion of which was kept in remote storage areas. It was decided to relocate the 5th & 6th grade classrooms from the west end of the Academic building to newly constructed classroom space at the east end.

This adaptive reuse allowed for a re-assignment of 5,000 SF of area for the new Library, including a small addition for a "Read Aloud" (open classroom) and exit stairwell. This new location places the Library above the Dining Hall and contiguous to the Gymnasium at the Center of the campus and is directly accessible by all grades.

The existing classroom floor structure was of concern for its capacity to withstand Library floor loads. After analysis and evaluation, the Library use was determined to be feasible with the restriction of 4' high maximum shelving at the Stack areas away from the perimeter walls. Also, the existing height from floor to bottom of existing roof joists is 10'-0". This short dimension presented a challenge to the Design Concept


EXISTING CLASSROOM
(before)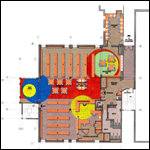 CORIDOR TO LIBRARY
(after)
CARPET PATTERN AND FURNITURE PLAN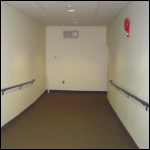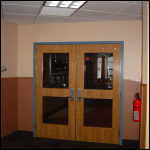 VIEW WEST TO EXIT DOORS (before)