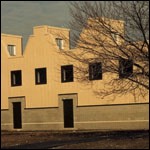 Riverview Nursing Home Warehouse & Workshop Design

18,000 SF one story warehouse structure for the City of Philadelphia Riverview Nursing Home situated along the Delaware River in northeast Philadelphia.

This one story structure is set on pilings due to the poor soils conditions along the riverbank. It featured passive cooling towers by use of cooling monitors on the south end and intake grilles on the north side.